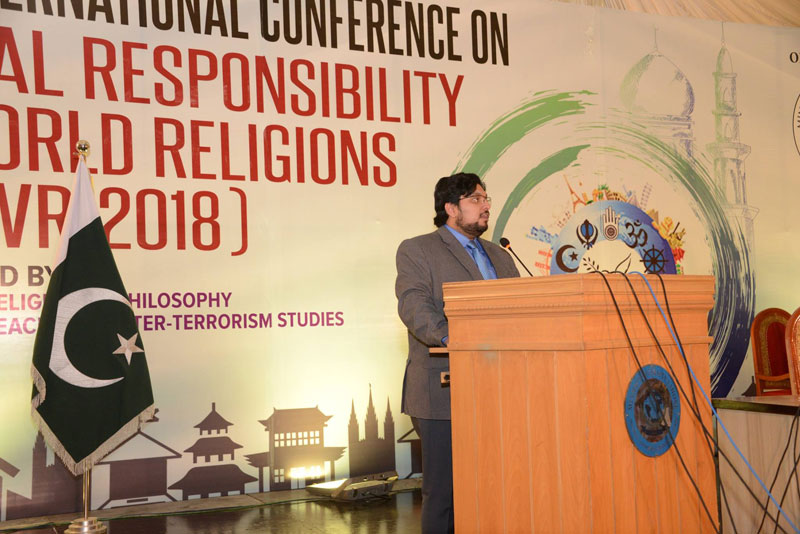 "The Government in power is on the same page for the very agenda of this conference. The government whole heartedly is for the entire harmony for all the religions, rights of minorities and act of tolerance. The Minhaj University Lahore, by holding conference on a very supreme issue that of "Social Responsibility and World Religions" has dispense its National and International patriotic responsibilities. This act of Minhaj University Lahore needs to be appreciated by standing ovation of all times to come"
This was stated by the Dr. Noor-ul-Haq Qadri in his address at the opening session of the conference at Minhaj University Lahore. He further stated that the Prime Minister Imran Khan have deep regards and blessings for the Minhaj-ul-Quran International for their endeavors in Peace Building. He stressed that no power can bring devastation to Pakistan. This country is made to last till doomsday.
Doctor Hussain Mohi-ud-Din Qadri, the Deputy Chairman Board of governance expressed his deep gratitude to the honorable minister for his auspicious presence at the conference. He extended heartiest greetings of thanks to the International Speakers that of Australia, Nigeria, Sri Lanka and India. He added, to inculcate the concept of peace in the upcoming generation, we have to make congenial the environment of brotherhood and fraternity. It is the second time that Minhaj University having this privilege to host such a memorable conference with International speakers. Concisely, Minhaj University Lahore with reference to International dialogues is a bridge between the scholars and their message to general community.
Doctor Muhammad Aslam Ghouri the Vice Chancellor Minhaj University Lahore stated that the basic objective of this conference is to accord peace in the world. In addition to that this conference provides food for thought to the students for widening their intellectual vision on the basis of modern technology and research methodologies. In respect of social responsibilities, it is a matter of great honor for Minhaj University Lahore that the Deputy Chairman has been awarded Good Governance Award in Malaysia by Cambridge IFA.
The scholar Doctor Charles Andrew Hogg from Australia while presenting his paper sounded his mind that human being contemplates and speculates in more than seventy thousand ways and means. If our way of thinking is optimistic then due to its impact our practical life will be free of any pessimism or self negating attitude and vice versa. It is matter of sheer agony that the world at large is spending a hefty amount to purchase ammunition but their budget for promotion of Peace is next to nothing. For ultimate inner peace we have to shun all together pseudo contradictions, prejudicial notions and aggression from our mind. The life of religious scholars and saints is symbolic for each one of us to practically change our lives.
On the first day of the land mark conference "Social Responsibility and World Religions" held at Minhaj University Lahore worldwide International speakers and local speakers participated among them were Dr. Joseph Sun vice Rector of F.C. University, Dr. Imtiaz Yousaf from Thailand, Dr. Sufyyan from Nigeria, Dr. Gowhar Quadirwani from India, Dr. Ibrahim, Dr. Emmanueal O Inyama and Dr. Ryan Bresher from Nigeria, Venerable Bom Hyon Sunim from Australia. Whereas among the local presenters were Dr. Um.e.Salma, Dr. Shumaila Majeed, Raza Naeem, Dr. Ramzan Shahid, Anwaar Ali, Dr. Muhammad Ayaz Khan, Uzma Naaz, Hassan Ali, Muhammad Hassan Ebad, Husnain Ali, Hudaibia Saqib and Sabir Naaz.
"Social Responsibility and World Religions" were organized with the collaboration of PHEC in coherence with the Department of the Religion and Philosophy headed by Dr. Herman Roborgh. Dr. Herman in his welcome address welcomed all the distinguished guests and participants. He highlighted the crux of the conference.
Madam Samreen khurram Aftab, Director Social Media while performing as stage secretary expressed her deep regards to all the guests from Minhaj-ul-Quran International that of Khurram Nawaz Gandapur, Brigadier (r). Iqbal Ahmed Khan, G.M. Malik and Noorullah Siddiqui. The Note able participants from university were Madam Rabia Ali Director Minhaj Media Cell, Madam Robina Saeed HOD Mass Communication, Mr. Khurram Shahzad Conference secretary/Director Academics and Col (r). Mubashar Director Administration.
After the lunch break conference started with the concurrent sessions in the Minhaj University Marquee where the International Speakers presented their papers and there was a panel discussion where the participants plied the speakers with counter questions. The second session of the conference will be held on 21st Oct at Minhaj University Lahore. Speaker Punjab Assembly Ch. Pervaiz Elahi will be gracing the second day session.