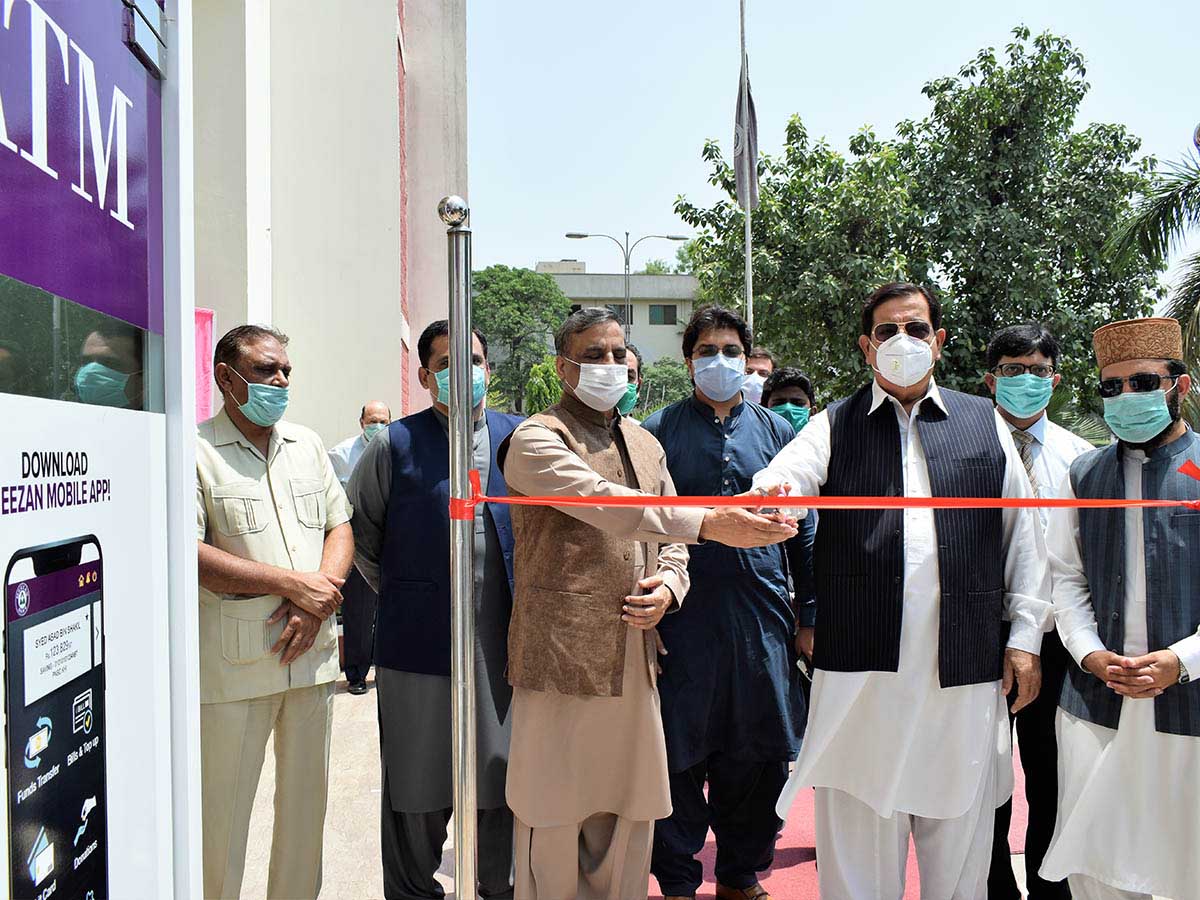 Minhaj exertions culminated in fortifying the future of Minhajians

Minhaj University by observing all the health safety measures (COVID19) on June 18th made a formal inauguration of Meezan Bank ATM outlet at Ibn-e-Khaldun block of the university campus. Honourable Khurram Nawaz Gandapur Nazam-e-Ala Minhaj-ul- Quran International on the special invitation of vice-chancellor embellished the occasion as chief guest and inaugurated the ATM outlet.

Speaking on this occasion, Nazam-e-Ala lauded the ingenuity of Minhaj University of ATM outlet and while crediting the determinations of Dr. Sajid Mehmood Shahzad as per the vision of Dr. Hussain Mohi-ud-Din Qadri, Deputy Chairman, BOG, MUL stated that indeed the university had made incredible enhancement during the span of last half the decade. He acknowledged the university administration and academia that by best-making use of artificial intelligence during this traumatic time of Corona endemic encountered efficaciously the target of online classes, midterm exams and webinars as per HEC requirements. By all means, these exertions culminated in fortifying the future of Minhajians and dominant productive utilization of their time by staying at home.

Dr.Sajid Mehmood Shahzad, vice-chancellor further briefed the Honorable Khurram Nawaz Gandapur that besides the ATM outlet, the university accounts department headed by Mr. Abdul Rehman along with his team Mr. Ali Mohi-ud- Din Qadri and others in collaboration with FINJA launched mobile banking fee solution app. It would facilitate the students to deposit fees and to check its status through this online banking facility.

Later on in the vice-chancellor, in his office, briefed the Nazam-e-Ala about the ongoing projects of Minhaj University and specifically stated about making university lush green as per program (State of the art Greenhouse Pakistan). He while talking about online classes and midterm exams said that Minhaj is the pioneer in the private sector who commenced their online classes and midterm exams within the time frame of HEC and have completed all the schedules for online admission for Fall Session (2020).

Present along with the chief guest, the other distinguished guest was Mr. Babar Chaudhry Manager Operation Meezan Bank, they extended the heartiest aspirations to the vice-chancellor and Director administration, Major Salman Jhangir and management for the remarkable progression of Minhaj University Lahore and to keep the campus disinfected as per SOPs of WHO.