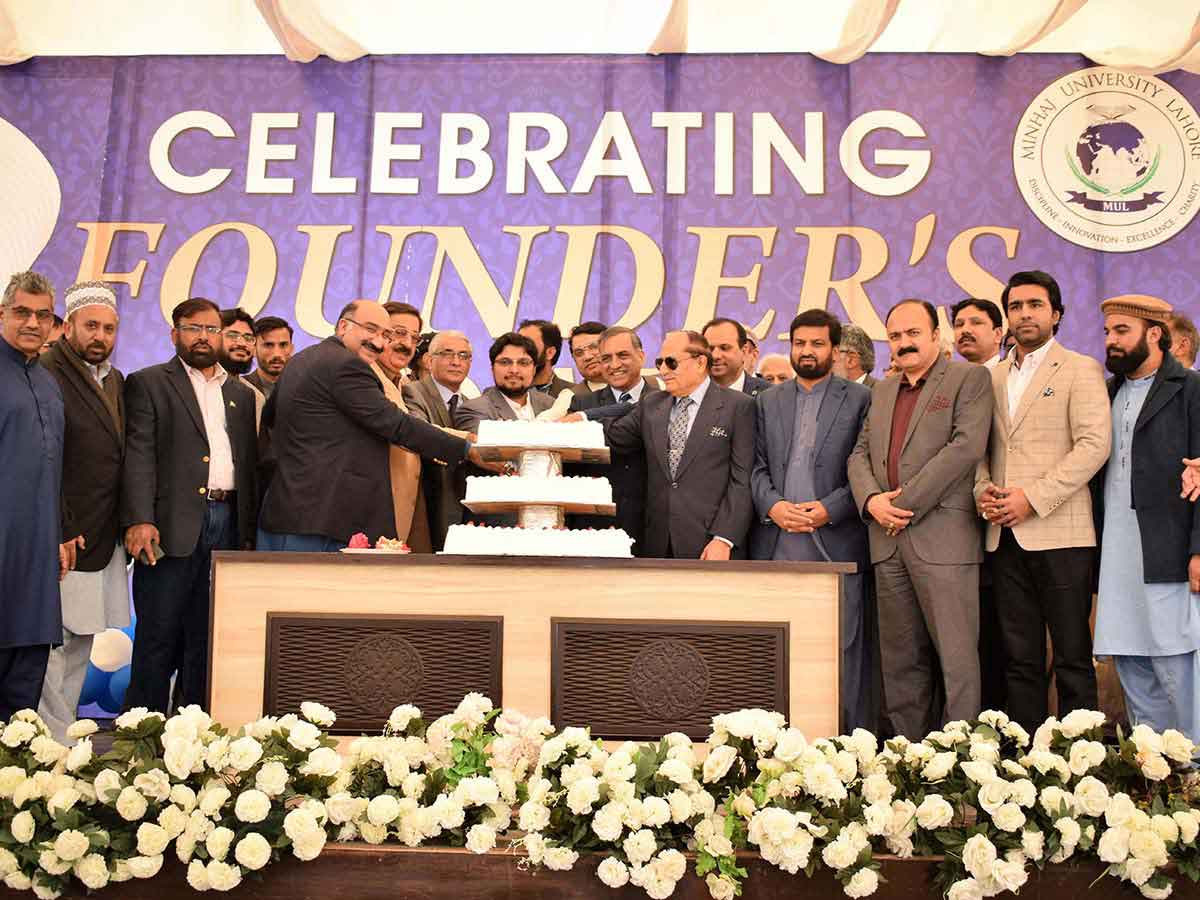 Minhaj University Lahore to pay gorgeous homage to the Ambassador of Peace & Harmony Shaykh-ul-Islam Prof. Dr. Muhammad Tahir-ul-Qadri (Chairman BOG, MUL) celebrated his 69th Happy Birth Day as Founders' Day on February 19th 2020 and wished him longevity with virtuous health. The event was organized by Secretary Seekers Club (Ms. Ammara Qadri) Director Administration, Major (R) Salman Jahangir and his team. The inauguration of the ceremony was shared with the jubilance of flaunting balloons and pigeons
Dr. Hussian Mohi-ud- Din Qadri, Deputy Chairman BOG-MUL in his address said,'' to be successful in life you must have some role model .The role model should be the one who possesses all the righteous traits. In this era, we are lucky to have among us Prof, Dr. Tahir-ul- Qadri whose success story is self-speaking. It is his meticulous and clairvoyance vision which made Minhaj-ul- Quran International symbolic in the entire world.''
He added," that the core values of success are governed by some golden principles which are generalities. These values comprise of faith, hard work, shunning blame games, inculcating the habit as a part& parcel of your life to give respect to your elders and teachers and all this possible with a sense of commitment, dedication, devotion and loyalty to your profession and organization. The life of Shaykh-ul-Islam is figurative in this respect. His commitments to his accomplishments are like a rock.Dr. Tahir-ul-Qadri has the understanding, capability and stature to address the issues being faced by the Muslim world today. His personality, he said, is worthy of pride for the entire Muslim Umma."
Dr.Sajid Mahmood Shahzad Vice-Chancellor while highlighting the individualities of Shaykh-ul- Islam said,'' we are blessed to celebrate this great day of The Ambassador of Peace & Harmony. Analogically, stating God has blessed us from Sialkot the great poet Allama Iqbal whose poetry was a beacon of wisdom for the youth. Then, when the time came to turn the dream of the great poet, in reality, Almighty showered us with great leader Quaid-e- Azam Muhammad Ali Jinnah from Karachi. Eventually, when there was dire need to regenerate the spirit of true the Islamic State of Pakistan the Omniscient blessed us with Prof. Dr. Tahir-ul-Qadri from Jang, who is a leading authority on Islam in the contemporary world and struggling hard for the promotion of peace and for intellectual, scholarly and social services for humanity."
Speaking on the occasion,Mr. Khurram Nawaz Gandapur, Secretary-General of MQI said that Shaykh-ul-Islam Dr Muhammad Tahir-ul-Qadri is a paragon of love, peace and harmony and every word uttered by him is a fountain of love and peace."
In his speech,Mr. Azhar Zahidi, Ex-President Pakistan Cricket Board said that Dr. Tahir-ul-Qadri is a scholar par excellence and his scholarship makes him a legendary figure. He said that he benefits from Dr Tahir-ul-Qadri's books and he is no doubt ambassador of peace and love in the world.
Keeping the tradition of Minhaj University on Founders Day, there were three lucky draws for Umera as a matter of welfare gesture. At this occasion, nineteen students those who qualified through scoring positions in the exam under the Scholarship Educational Scheme of Prof. Dr. Tahir-ul- Qadri were accorded with Scholarship certificates. The Mass Communication Department displayed a Documentary presentation depicting the life long struggle of Dr, Tahir-ul- Qadri which was highly applauded by the audience. As a matter of tribute, an anthem of Shahzad Brothran(Naat Khawan) scribed by Kawaja Allah Raka Saif was played being dedicated to Shaykh -ul- Islam was heart touching.
The distinguished guests and all the participants step forward and sliced the Birth Day cake along with Deputy Chairman with a prayer to bless a healthy life to Shaykh-ul- Islam and Almighty may shower him with best of his bounties.