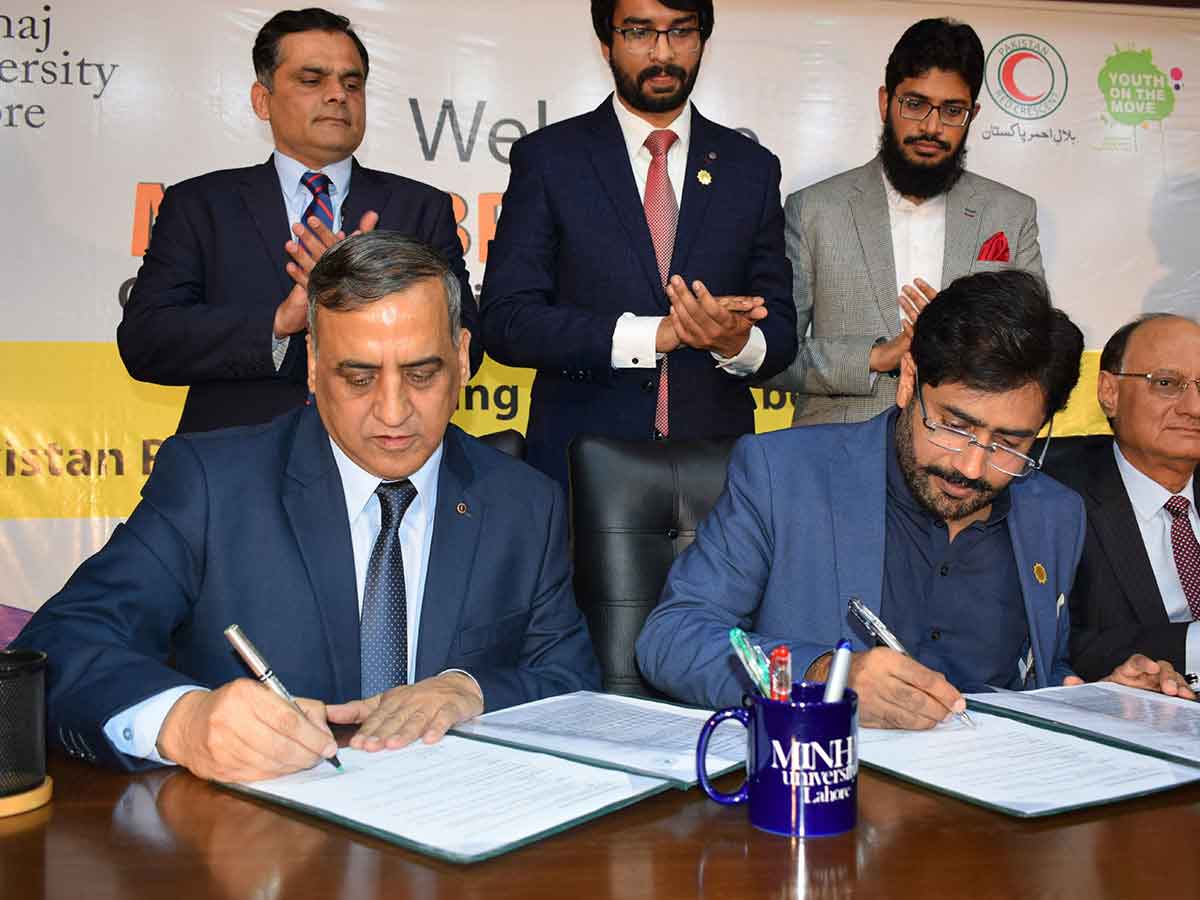 Minhaj University Lahore in a graceful ceremony signed an MOU with the Red Crescent Society of Pakistan on February 9th (2020) with an objective to dispense Social Responsibilities for serving humanity.
Mr.Abrar-ul- Haq Chairman Red Crescent Society highly lauded the humanitarian and educational services of Minhaj-ul- Quran International under the flagship of Shaykh-ul- Islam Prof. Dr. Tahir-ul- Qadri. Minhaj-ul- Quran International is a role model for the entire world. He hoped that by signing this MOU in collaboration with the vibrant and committed students of Minhaj University Lahore, we would pace our prime objective of Red Crescent Society to help and support the deprived and destitute in downgraded communities working for their right, providing children with the access to education and the underprivileged access to Basic Health Care and the means for Social Economics and welfare support.
Justice (R) Shaikh Ahmad Farooq (Chairman, Pakistan Red Crescent Society, Punjab Chapter) prayed that this MOU will culminate to promote the areas based upon principles of equality, reciprocity and mutual benefits and will be aimed at solving common problems and improving the students preparedness and relief operation in case of disaster management with the volunteer contribution of Minhajians.
Dr. Hussain Mohi-ud- Din Qadri Deputy Chairman BOG- MUL felicitated Abrar-ul- Haq for being the Chairman of Red Crescent Society and visualized that this collaboration would go far beyond its regional and national boundaries to promote social justice, employment, disaster management, poverty education, work for sustainable livelihood, interfaith harmony which is mission of Minhaj-ul- Quran International.
Dr.Sajid Muhmood Shahzad, Vice-chancellor held in high esteem the struggling journey of Mr. Abrar-ul- Haq to reach this status and said,'' God willingly, this MOU will aspire to bring a tremendous change in motivation of Minhajians to interact, establish organizational contacts, develop human capital through extension of knowledge and creativity and to act as a leader and step forward in way towards excellence to prove that Minhajians are the future of Pakistan.