Dr. Sajid Mahmood Shahzad Sitara-e-Imtiaz(Military)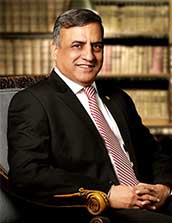 Centre for Research and Development has proved to be a multidimensional Research Prism in MUL,though it begun only from Political Science and International Relations,but it has expanded its wings to other disciplines and faculties as well. I appreciate the series of Dialogue on the Developmental Education.The first Dialogue had been on "The Problems of Higher Education in Pakistan".The participation of HEC and FC University increased the success of this Interdisciplianary Extra Curicular Activity.The Publications of Volume 01, No. 01 and No.02 of Research Journal, "Journal of Professional Research in Social Sciences" ISSN2312-8755(Print) and ISSN 2412-5037(OnLine) have added to the success story of CRD.I emphasize here that the continuity and consistency in the publication of Journal should be strictly maintained.The scholarly work published in the Journal has received the appreciation at both National and International Level.I congratulate and  extend my deep thanks to the National and International members of the Editorial Board and the Board of Referies for the cooperation and valuable input to the Journal and the functioning of CRD.
The Research Journals of the faculties including Basic Sciences, Languages and Economics are also in process and I will encourage their development process. I hope that CRD will prove  its status and role  as a multidiscipliary interactive research centre.
MUL has taken many initiatives to encourage the research activities on the Campus  and beyond the borders.The seeding and fertility is very positive, hopefully the Research Culture will be growing and blosoming at a very good pace. I am pleased to announce  the year 2016 will be the Year of Research in MUL. I believe that the Research Contributers from MUL and our Adjunct Researchers will be contributing with  a proactive spirit and we shall be adding more positively to the growth and expansion of the Basic Objectives,Core Values and Mission of MUL. I congratulate Prof. Dr. Naudir Bakht, Director CRD and Mr.Waqas Haider Bukhari Coordinator CRD, on their continuous hard work for the realization of the Basic Goals of CRD. I hope they will be more productive in the days to come.