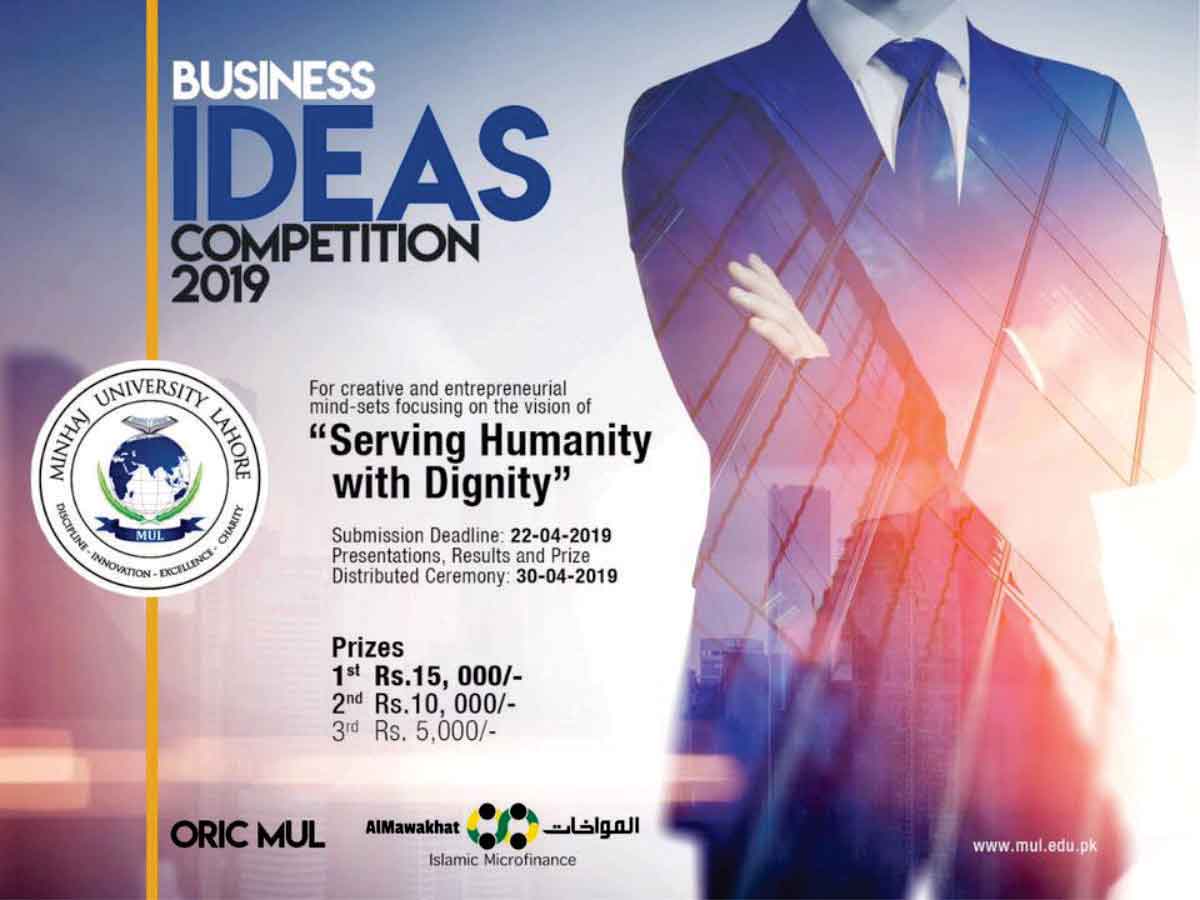 To help and encourage more entrepreneurial spirit among young students and graduates of Minhaj University, ORIC MUL is going to organize a business idea competition for Minhaj University Lahore students with the collaboration of ICRIE sponsored by "Al-Mawakhat Islamic Microfinance" named "Business Ideas Competition 2019" for creative and entrepreneurial mind-sets focusing on the vision of

"Serving Humanity with Dignity"


Platform: Minhaj University Lahore (MUL)
Organized by: ORIC MUL
Collaboration: International Center for Research in Islamic Economics (ICRIE)
Sponsored by: AL-Mawakhat Islamic Microfinance

What we are looking for you?
The participants will have to propose new solutions that meet the following requirements:
Focus areas are Agriculture, SMEs, Livestock, Women Entrepreneurship
The idea must be Product based model not to be Loan based model
It may be IT based
It must be applicable and problem-solving
Addressing the social & Market need
Promoting Financial Inclusion
Alleviation of Poverty
Combating Climate and Environmental Problems
Competition Guidelines:
There must be up to 3 to 5 students in one team or group.
A proposal must be submitted within 3 weeks from the date of registration.
Expert reviewers will evaluate submissions to be selected for poster presentations.
Prototypes will have to be displayed together with the posters.
The finalists will be given 10 minutes for an oral presentation covering the key ideas of the project to the panel of the judges and followed by 5 minutes Q&A.
Based on the judging criteria, the judges will rank and identify the first three positions.
Judging Criteria:
Creativity / Idea Novelty (20%)
Impact on Society and/or Professional Practice (20%)
Commercialization Potential (20%)
Prototype Design and Implementation (20%)
Usability / Ergonomics (20%)

Prizes:

1st Rs. 15000/-
2nd Rs. 10000/-
3rd Rs. 5000/-


Email for Submission:
ideas@mul.edu.pk

Important Dates:
Announcement: 04-04-2019
Submission Deadline: 26-04-2019
Notification of acceptance and Rejections: 29-04-2019
Presentations, Results and Prize Distributed Ceremony 02-05-2019

Contact Details:
Mr. Muhammad Hassan Abbas
Operational Manger (Al-Mawakhat)
0334-4117950
mhassan.abbas@mul.edu.pk

Mr. Muhammad Shahan Siddique
Representative (ORIC-MUL)
0334-7725005
Shahan.csit@mul.edu.pk