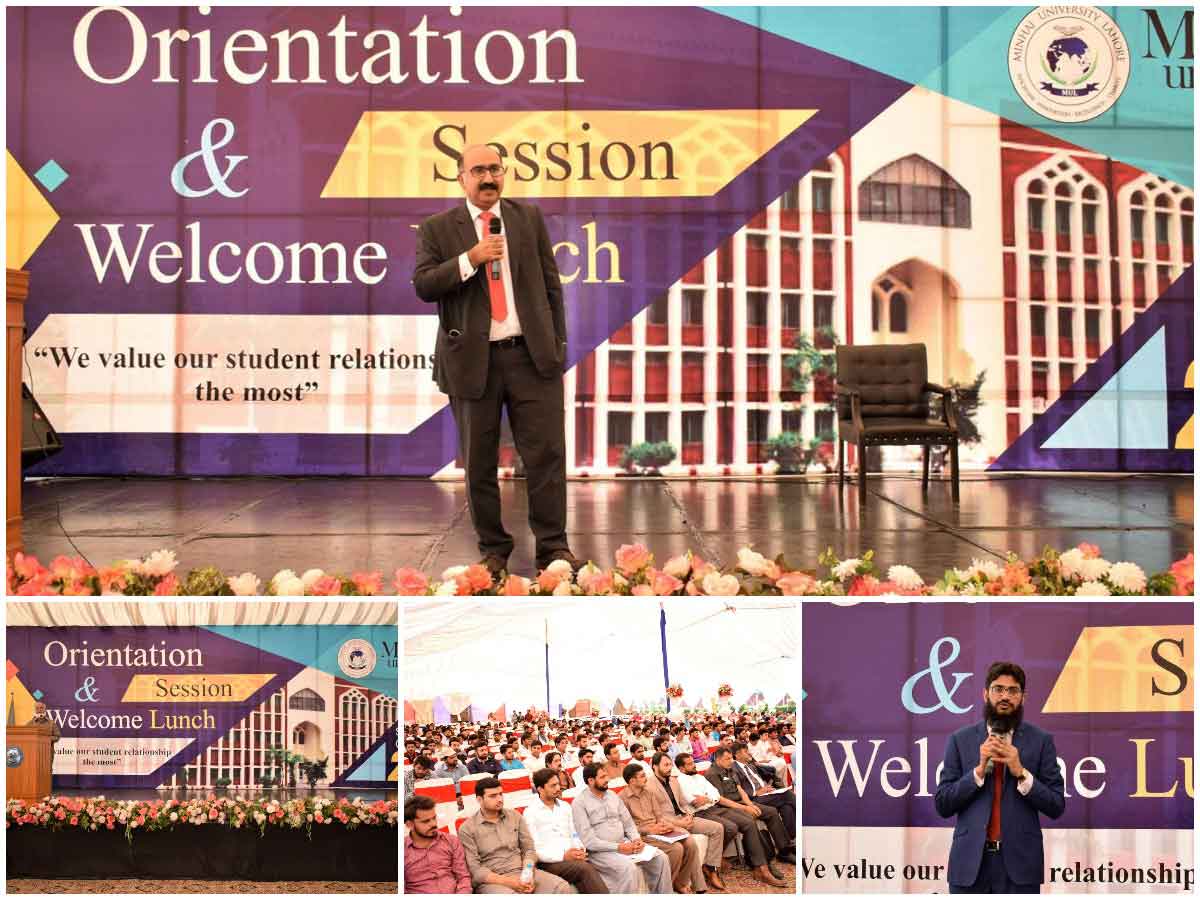 Orientation & Welcome Lunch for the Students of Spring 2019 (New Intake)
WE VALUE THE REALATIONSHIP WITH THE STUDENTS THE MOST with this motto a grand orientation session for the students of Spring (2019) New Intake was organized by the Minhaj university Lahore on Sunday 7th (2019).The basic objective of the orientation was to give the fresh students the awareness about the university culture, rules and a new leaf for the new intake. The new comers were briefed about the History of the University by a documentary of MUL.
Prof. Dr. Muhammad Aslam Ghauri, Vice Chancellor in welcome speech stated,'' Expressed the good greetings and MUL is out to provide knowledge at very affordable packages with best tools of learning. This institute is established on the concept education for all.Where as in this institute, we value the discipline of the students, the most. When you come in this university comes as student not an officer since most of the students who have been serving in the government department hard to adjust with rules, regulation and discipline of the university. It should be obligatory for students to give respect to teachers whereas, MUL, all departments teachers, staff and others are all the time will be supportive with you provided you cooperate with them. Remember, there is no compromise on class attendance. In our eyes the good student is the one who complete his assignments in time and bears punctuality of work. Our aim is to promote your career and turn you a good citizen, student and obedient children of your parents.''
Later on all the departments, Directors: Social Media, Students Affairs, Administration, Academics
Marketing/ Media & International Center of Excellence gave briefing about their pertinent departments ranging from the University discipline, dress code, and minimum requirements of attendance, academic calendars and matters related to students' affairs as one window operation, and sports festivals activities & memberships.
Later on the audiences were entertained with humor by the honorable guests Mr. Imtaiz khokab,Mr. Fakhar Abbas and Mr.Murli Chohan. Their performance made the audience very lively. These guests were accorded with MUL shields.
Dr. Muhammad Shahid Soroya, Pro-Vice Chancellor expressed thanks to Almighty to organize this welcome event in honor of fresh intake. He hinted a very important message to students in his speech,'' that we human beings are divided in various categories as per our intelligence. Your career at MUL demands hard work with intelligence. Without understanding the subjects getting degree is good for nothing. Dedicate yourself to studies whole heartedly so that you become shining star of your career and then to live life like a professional and die like a professional.