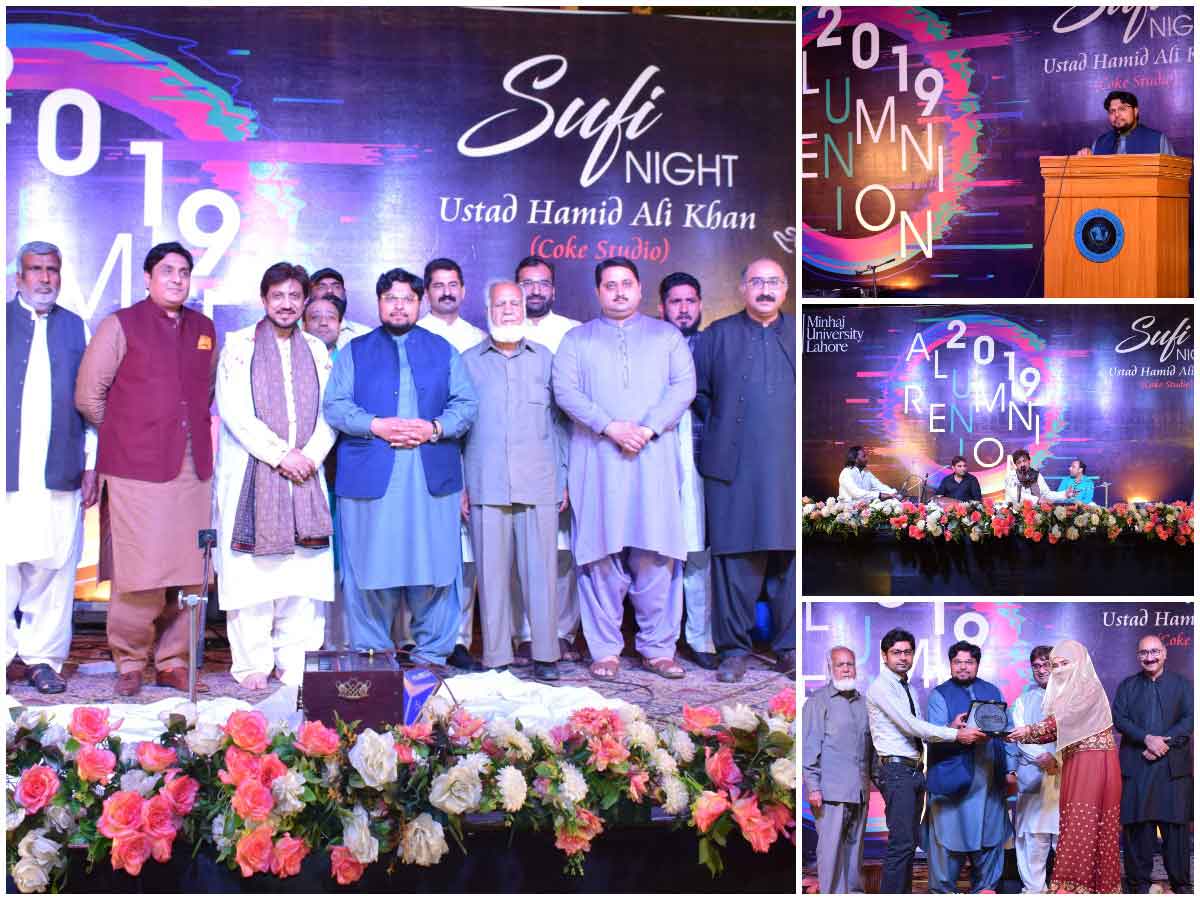 Zealous Alumni Reunion with Exuberant Sufi Night
Minhaj University Advancement Office organized colorful Alumni get-together held on April 6th (2019) at MUL. Exorbitant number of students participated in Zealous Alumni Reunion to share their golden memories of university and success stories.

After the recitation of Quran, Mr.Nadeem Iqbal Bahoo,(the son of late renowned Gazal singer Mr.Iqbal Bahoo) amused the audience with his enchanting KALAMA IQBAL and got great ovation form the participants.
Mr.Sohail Malhi, Director Advancement/Alumni office in his words of expression said, 'the presence of Alumni is matter of sheer pride for us. Our graduates are precious assets for us. The professionals like you are promoting the name of MUL everywhere which is matter of great honor for all of us. It is because of this by now MUL stands unique among its competitors in the academic horizion.Our educational infrastructure and other fringe benefits in this university made us successful to step gradually on the stairs of success and glory. Meeting with Alumni each year strengthen the relationship between you at MUL and makes us feel that you take the university home like institution''.

One of the Alumni,Mr.Ghullam Mohi-ud- Din while sharing his success story narrated, ''today I all because of MUL .I had been a student of Management Sciences. My teachers all the way guided me over here and that is why today I am here.Now a days, I am serving police department and also doing my business .My business success is all because of education at MUL.I still come here to seek advices from my teachers who are always kind enough to entertain me by all means'.'

Dr.Hussain Mohi-ud-Din Qadri, Deputy Chairman BOG-MUL, felt gratified on the presence of Alumni, Distinguished Guests, Director Advancement Office, Vice Chancellor, Pro- VC and all faculty members to arrange such nice memorable evening in honor of Alumni. He in his message to Alumni students said, 'where you are today , no doubt ,it goes to your Academic hard work; but, the name of MUL will remain with you all the times. The relationship of yours with this university is hard -bound. Your efforts will be recognized as spell bound with MUL.Today, this get-together is providing you opportunity to rejuvenate your golden memories with friends, teachers and refresh your clinging relationship with the institution. The purpose of Advancement Alumni office is meant to give support to the students for the job placement and career counseling after their completion of education at MUL .All alumni are the precious investment of MUL.Today, MUL has covered many endeavors of success and many new noval departments are developed including the splendid inauguration of Jamia Mosque. It is our distinction that we don't only provide education but also develop ethical and moral standards of the Minhajains. This university was established by Shaykh-ul-Islam,Prof.Dr.Muhammad Tahir-ul-Qadri in 1986 with mere facilities only taking a start with one department. Today, it is a world class university with 33 faculties and that time is not far off when this university would be one of the top notch universities in the world. It is matter of agony, that education today is made a business; but, it is distinctive feature of MUL to provide education at economical affordable packages which are nodoudt comparatively lower than other universities in the market of same academic and facilities infrastructure. We do give special concessions to needy and deserving students. It is pride of MUL to get 3G social responsibility award in higher education(2018) at Kuala Lumpur,Malaysia.The sport department of MUL represented itself in the international sports. Besides, other departments of MUL the school of Religions & Philosophy is run by internationally recognized head Dr.Herman Roborgh.In coming times, there is grand development of Shaykh-ul-Islam Spiritual Study Center .In addition to that, the development of gigantic Robotic Library is in pipe line. He also highlighted the mega conferences held by MUL as exclusive achievements. To develop the name of MUL as a brand credit goes to Alumni of MUL.Alumni are the mirror of MUL''

The Alumni were given the souvenirs and the focal persons were accorded with certificates and by the public department of MUL a cheque of one hundred thousand rupees was handed over to the Advancement/Alumni office.Dr.Muhammad Shahid Soroya,Pro-vice chancellor appreciated the presence of Alumni and ensured the lasting relations with them and by meeting on each Alumni get-together.

The zealous and enthusiastic event ended with the mesmerizing performance of distinguished singer Ustad Hamid Ali Khan accompanied by a sumptuous dinner.