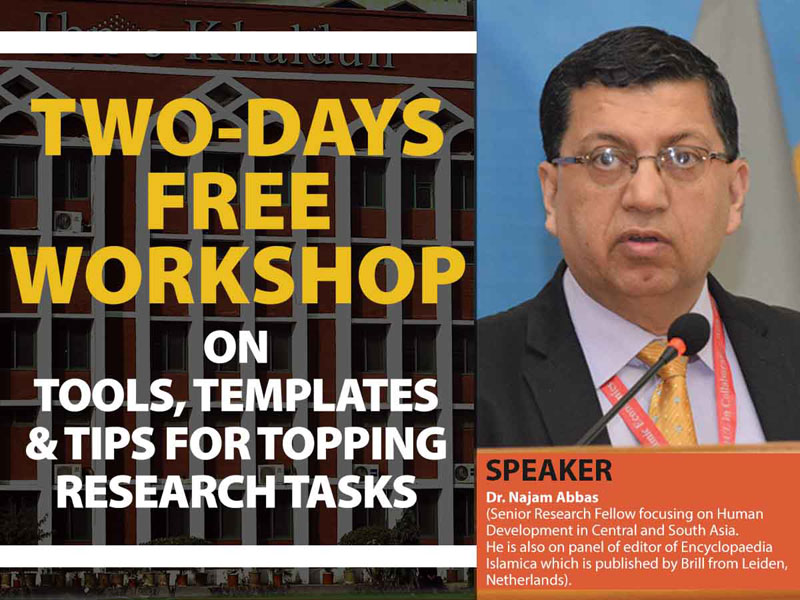 INTRODUCTION:
A 2-days workshop is being offered for M.Phil. & Ph.D Scholars of Minhaj University Lahore by a UK based expert Dr. Najam Abbas in qualitative research for transferring some state-of-the-art tools and templates to enable purse and produce research effectively taking advantage of pro-active, participatory pedagogy enhanced with practical activities and exercises.
MAIN FEATURES
1. Fetching a good Research Idea
2. Managing an Independent Research
3. Managing and Reviewing Literatureemporibus
4. Key elements of Research Design
5. Designing Research Program
6. Analytical, Writing and Presentation Skills
7. Publishing Research
8. Research Ethics
9. Understanding and appreciation of the suitable qualitative, quantitative or mix method approaches
SPEAKER
Dr. Najam Abbas
(Senior Research Fellow focusing on Human Development in Central and South Asia. He is also on panel of editor of Encyclopaedia Islamica which is published by Brill from Leiden, Netherlands).
1st Session - Date:
15th-16th December 2018
Saturday 02:00 pm - Sunday 09:00 am
at Suffa Hall, Minhaj Ul Quran International, 365 M Block, Model Town, Lahore.

2nd Session - Date:
29th-30th December 2018
Saturday 02:00 pm - Sunday 09:00 am
at Minhaj University Lahore, Near Hamdard chowk, Madar-e-Millat Road, Township, Lahore.
Participants:
Faculty, Research Scholars (M.Phil. & Ph.D)
FOR MORE INFORMATIONS
CONTACT US
Qamar Zaman
PHONE: +92.(0)322400329