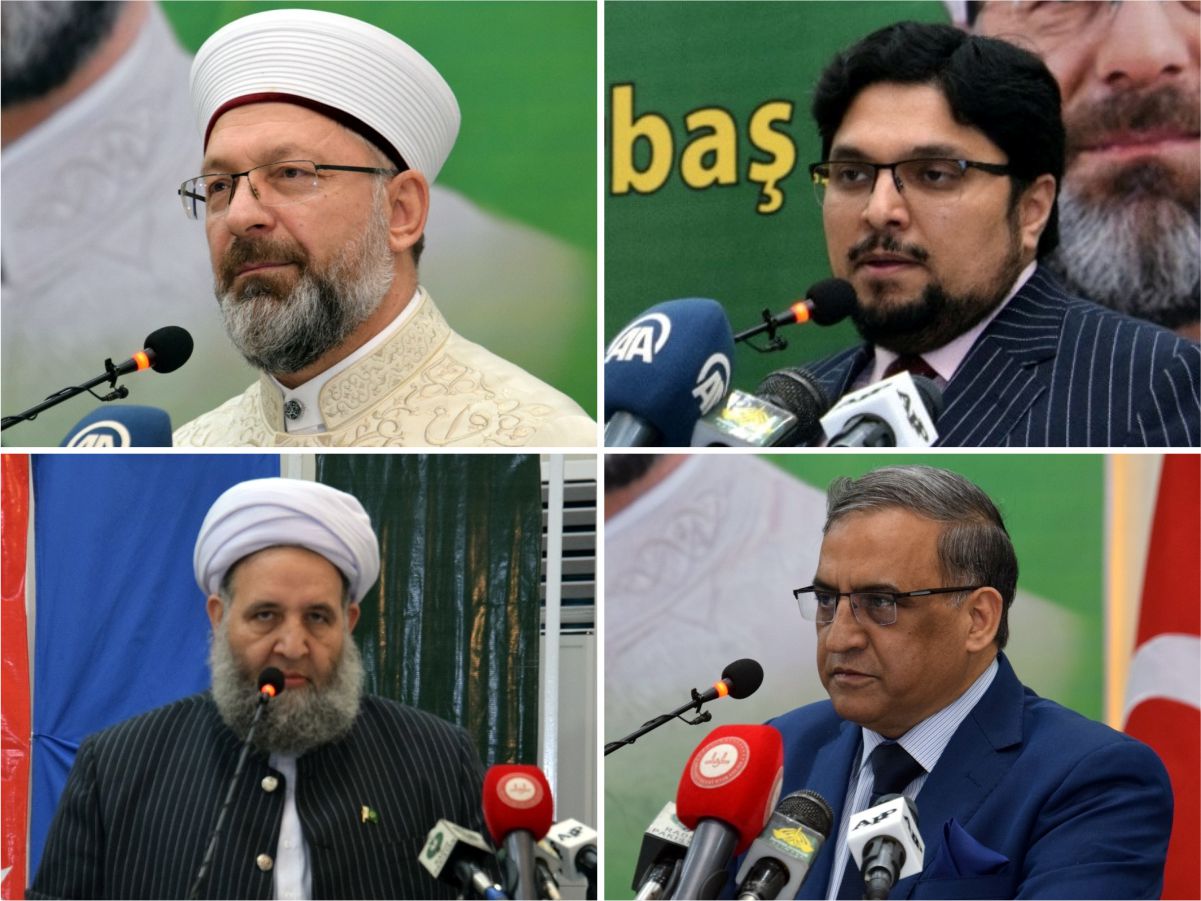 Addressing a special ceremony held in his honour at Minhaj University Lahore (MUL), Prof Dr Ali Erbas, Turkish Minister for Religious Affairs, has said that people in Turkey are greatly appreciative of the religious and educational services of Shaykh-ul-Islam Dr Muhammad Tahir-ul-Qadri. He said that the contributions made by Minhaj-ul-Quran International for the promotion of Islamic teachings, peace, and interfaith dialogue are worthy of being praised. He congratulated Shaykh-ul-Islam Dr Muhammad Tahir-ul-Qadri on his 71st birthday and said that he was greatly pleased to visit MUL, adding that Muslim Ummah needs excellent educational institutions that are capable of generating knowledge and research to address today's challenges.




Federal Minister for Religious Affairs Dr Noor-ul-Haq Qadri said in his speech that Pak-Turk bilateral relations are the symbol of prosperity and peace of the Islamic world. He also conveyed his greetings to Shaykh-ul-Islam Dr Muhammad Tahir-ul-Qadri on his 71st birthday and said that Shaykh-ul-Islam has rendered amazing services in every walk of life. He said that his research work and scholarly contributions are for the guidance of the succeeding generations.




Deputy Chairman, Board of Governors of Minhaj University Lahore, Dr Hussain Mohi-ud-Din Qadri welcomed the honourable guests on their arrival in the University. He said that the brotherly Islamic country, Turkey, has rendered immense services for the Islamic world and humanity more than any other country. He announced the grant of 5 scholarships for the Turkish students on behalf of Minhaj University Lahore and said that these scholarships are a gift for the honorable guests from Shaykh-ul-Islam Dr Muhammad Tahir-ul-Qadri. Prof Dr Ali Erbas also reciprocated the gesture by announcing 10 scholarships for the Pakistani students. These announcements were met with thunderous round of applause from the participants of the ceremony. The national anthems of both the brotherly countries were played at the start of the ceremony.




Vice Chancellor Minhaj University Lahore Dr Sajid Mehmood Shahzad presented the welcome address in which he presented a brief introduction of the University. The Turkish delegation included Dr Abdur Rehman Haikely, Usman Taraski, Doc. Dr. Selim Argun (Vice President of the Religious Affairs), Prof. Dr Ibrahim Hilmi Karsli (Vice President of the Religious Affairs), Erdal Atalay (Director General of External Relations), Doc. Dr. Mustafa Bulert DADAS (Vice President of the Religious Affairs), Hasan Guclu (First Secretary of Prof. Dr. Ali Erbas), Mahmut Ozdemir (Head of the Department of Muslim Countries and Communities), Burak Orhan (Counsellor), Sanan, Adil Ailarzi, Qari Ferrukh Mustuer, Sadik Ozkan, Muhammad Emin Biyik, Cem Iskender OZBALI, and Muhammad Gunn. The birthday cake of Shaykh-ul-Islam Dr Muhammad Tahir-ul-Qadri was also cut in the ceremony. The Turkish delegation was shown a documentary about Minhaj University Lahore, Shaykh-ul-Islam and Minhaj-ul-Quran International in the Turkish language.




Dr Hussain Mohi-ud-Din Qadri suggested that Turkey and Pakistan should collaborate to improve the global image of Muslims. He said that Muslims don't have the kind of means of expression and tools such as Facebook and Twitter. He said because of weakness on the media front, Islam is accused of terrorism and extremism and suffers from the image problem in the world.

The ceremony was attended by MQI Secretary General Khurram Nawaz Gandapur. Brig. (r ) Iqbal Ahmad Khan, Registrar MUL Dr Khurram Shahzad, Senator Ijaz Chaudhry, Sohail Ahmed Raza, G M Malik, lecturers and the heads of various Departments of MUL. All members of the Turkish delegation were gifted the books of Shaykh-ul-Islam on the occasion.