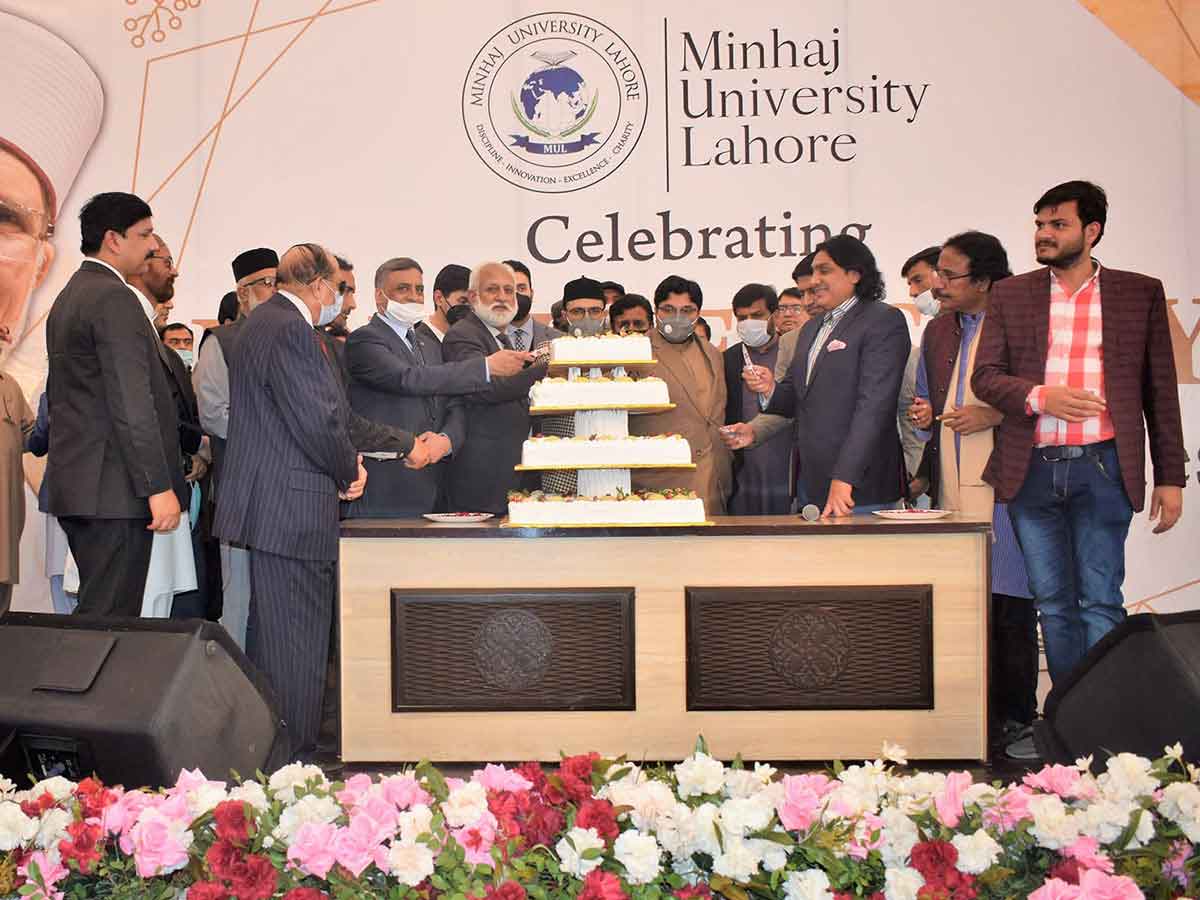 Minhaj University Lahore organized a special ceremony to celebrate the 70th birth anniversary of the Chairman of the Board of Governors and Founder of Minhaj ul Quran International Shaykh-ul-Islam Dr. Muhammad Tahir-ul-Qadri. Chairman Supreme Council MQI, Dr. Hassan Mohi-ud-Din Qadri was the Chief Guest. Deputy Chairman BOG, Dr.Hussain Mohi-ud-Din Qadri, Vice-Chancellor Dr, Sajid Mehmood Shahzad, Pro- Vice-chancellor Prof. Dr. Muhammad Shahid Soroya, Deans, Directors, Faculty members, prominent personalities, and a large number of students participated in the gracious ceremony.

Speaking on the occasion, Dr.Hassan Mohi-ud-Din Qadri said that Shaykh-ul-Islam's services for the establishment and promotion of peace globally distinguish him in the world. There is a dire need of the hour to benefit from the services of Prof. Dr. Muhammad Tahir-ul-Qadri to promote the Islamic message of peace.

Addressing the ceremony, Dr. Hussain Mohi-ud-Din Qadri said that Shaykh-ul-Islam has given in the shape of Minhaj University a wonderful educational institution for education and moral training for the succeeding generations.

Dr. Sajid Mehmmod Shahzad, Vice-Chancellor said that the peace narrative formulated by Shaykh-ul-Islam and his scholarly work can be presented before the international scholars, faith leaders, and societies of every temperament with pride.

At the meritorious scholarships worth Rs. 1 million were awarded to talented students. The faculty members were also awarded the Best Teacher Award at the ceremony.