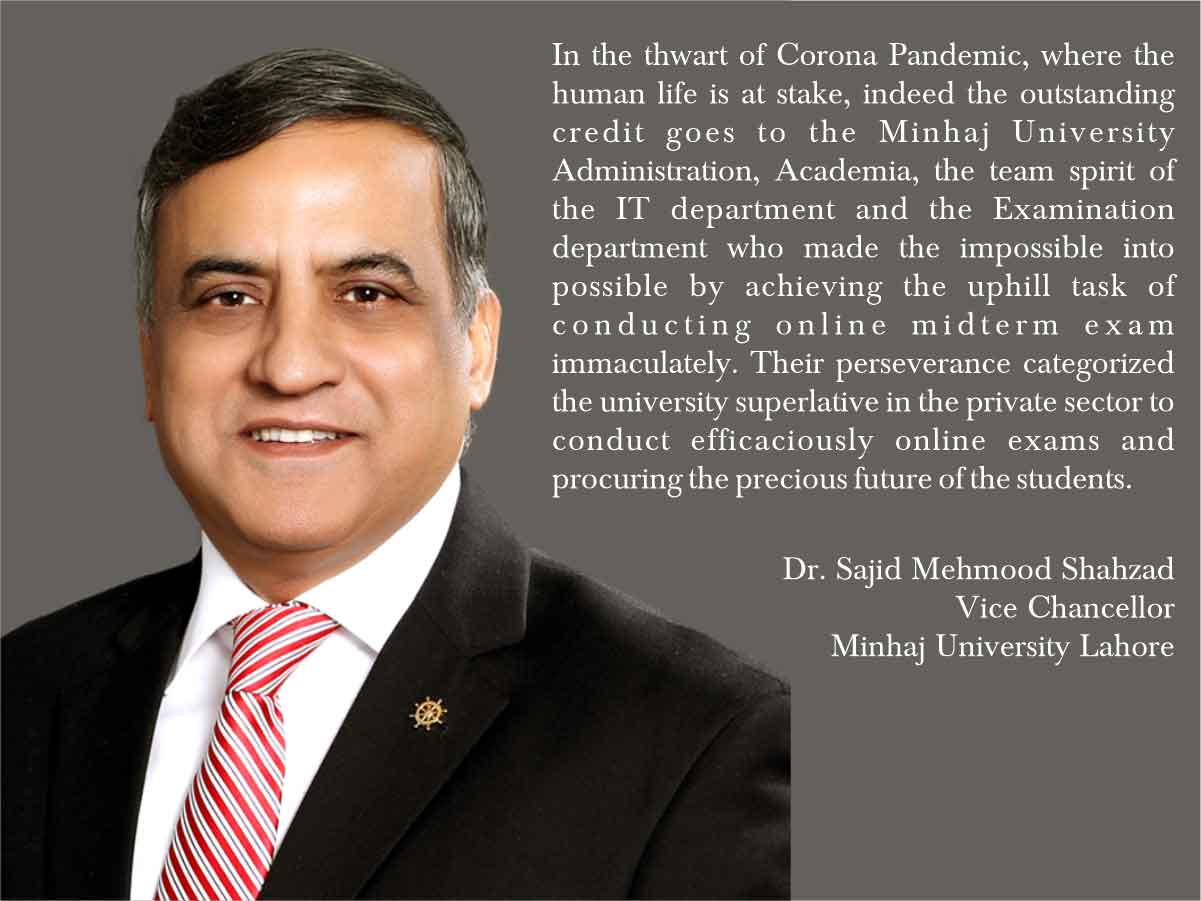 The splurge of COVID 19 never let the Minhaj step back from online classes and Mid Term Exams.
In the thwart of Corona Pandemic, where the human life is at stake, indeed the outstanding credit goes to the Minhaj University Administration, Academia, the team spirit of the IT department and the Examination department who made the impossible into possible by achieving the uphill task of conducting online midterm exam immaculately. Their perseverance categorized the university superlative in the private sector to conduct efficaciously online exams and procuring the precious future of the students.''
These words of indebtedness and inspirations were articulated by Dr. Sajid Mehmood Shahzad, vice-chancellor (MUL) while endorsing the determinations of all those who fervent their time and energy to make midterm exam undertaking effectively.
He added that the optimism and morale of the entire university administration and that of IT departments are emblematic without any apprehension of Corona Monster. It is a matter of mammoth pride that by encompassing top priority to the health and safety of Minhajians and keeping them away from COVID 19 the university commenced the step of online classes and with the grace of God consummated this goal graciously.
While stirring about online midterm exams, he said," the online examinations are in progression since June 10th which would end up by June 23rd. Optimistically, with the emblematic teamwork, we would be proud to triumph this uphill task successfully.
He emphatically stated that online examinations are conducted as per the rules and regulations of HEC. In addition to that, the university is methodically abiding by the SOPs of HEC for keeping the campus hygienic as per WHO standards.
He while escalating the role of students during online classes and midterm exam said that the efforts of Minhaj University would have been down the drain without the proactive assertiveness and corporations of students. Minhaj is all out there to assist the students in securing their academic future. He extended best wishes to students and blessed them with pray for promising success in ongoing exams.