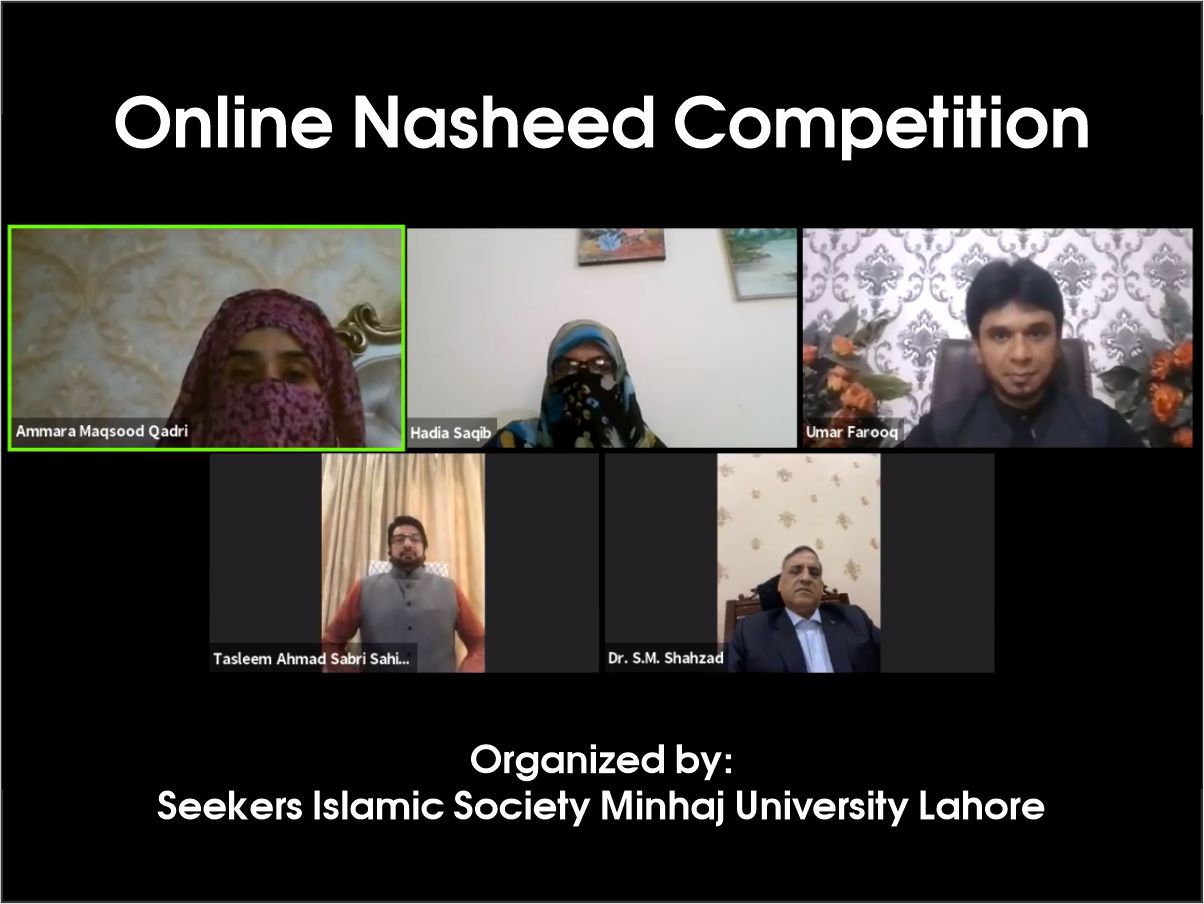 Seekers Islamic Society Minhaj University Lahore organized an Online Nasheed Competition on May 18th, 2020 with an aim to provide an opportunity to express love for Our Prophet (S.A.W.W) in the Holy month of Ramadan and inculcate the love for the Prophet (S.A.W.W) among the youth, which is infact a necessary part of a Muslim's faith.
Students from various departments expressed their keen interest and participated in the event with their melodious voices. The Program was hosted by Ms. Ammara Maqsood Qadri (Secretary MUL Seekers Club sisters) and Mr. Umar Farooq Shah (Secretary MUL Seekers Club brothers)
There were 20 participants in that competition which enthralled the audience with their melodious voices. The responsibility of Chief Jurry was performed by Famous Naat Khuwan Hafiz Qasim Madni (C.E.O studio 5)and Ms. Hadia Saqib Hashmi (Focal person Seekers Islamic Society) and Mr. Hassan Abbas (Focal person Seekers Islamic Society)The first positon was scored by Mr. Zain ul Abideen, Second Position by Mr. Hafiz Hanan and Third Position by Mr. Sajawal Sabir.
The chief guest of the event was Sahibzada Tasleem Ahmad Sabri, who is a well known Islamic scholar Pakistani host(QTV) while sharing his prestigious comments regarding the event, congratulated the entire management team for organizing such a fruitful activity amidst the Quarantine period due to COVID 19.
He said that the young generation should feel proud of reciting Naat and adopt this habit with consistency and dedication. He further stated that the youth should come up with more effort and hardwork for the promotion of Naat by arranging and bringing new Kalams.
The event was also honored with the presence of Dr. Sajid Mehmood Shahzad (Vice Chancellor, Minhaj University Lahore). At the end he appreciated the organizing team and congratulated the winners of the event.