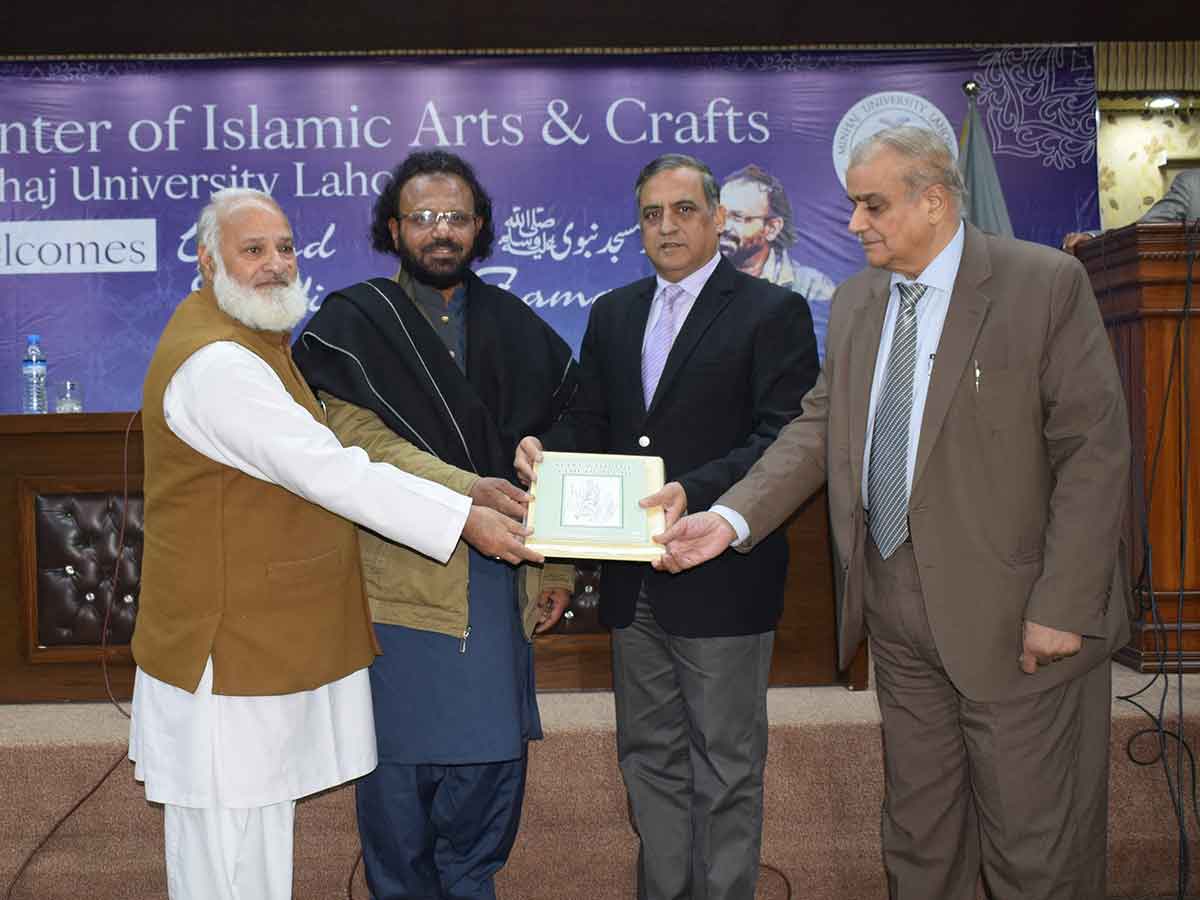 Center of Islamic Arts & Craft, Minhaj University Lahore, headed by Mr Shafique farooqi organized a welcome ceremony in honor of the renowned Calligrapher Mr. Shafique–ul-Zaman from Saudi Arabia...
Mr. Shfique-Ul-Zaman has the honor of bringing revolution to retrieve the art of Islamic Calligraphy globally. Due to his phenomenal work, he is considered the cultural Ambassador of Pakistan, Globally...He has been known as a "Khtaat-e-Haram Paak".Most of the work in Haram is done under Mr.Shafiq-ul-Zaman's supervision for the last three decades.
Dr.Sajid Mehamood Shahzad, Vice Chancellor, Minhaj University Lahore paid rich tribute to the honorable guest and felt pleased to announce that Mr.Shafiq-ul-Zaman would be doing the inauguration of the Shaykh ul Islam Institute of Spiritual studies (MUL).
Mr. Shafique farooqi, renowned artists, also the head of Shaykh ul Islam Institute of Spiritual studies, while speaking on the occasion said, "it is a matter of immense blessing that Mr Shafique-ul- Zaman is amongst us. The center of Islamic Arts & Crafts was my dream and I'm thankful to Dr. Hussain Mohi-ud- Din Qadri, Deputy Chairman, BOG, Minhaj University Lahore who gave reality to my dream. In this centre, soon we will be starting short courses in Art & Calligraphy."
Ustad Shafique -ul-Zaman in his thank you note mentioned the honour he felt for the respect extended by Minhaj University Lahore and emphasized that the Government of Pakistan and other Muslim Countries should patronize the art of Calligraphy and give it the status of a subject like Minhaj University Lahore so that more students can learn this art and may be benefited from this traditional Islamic Art.