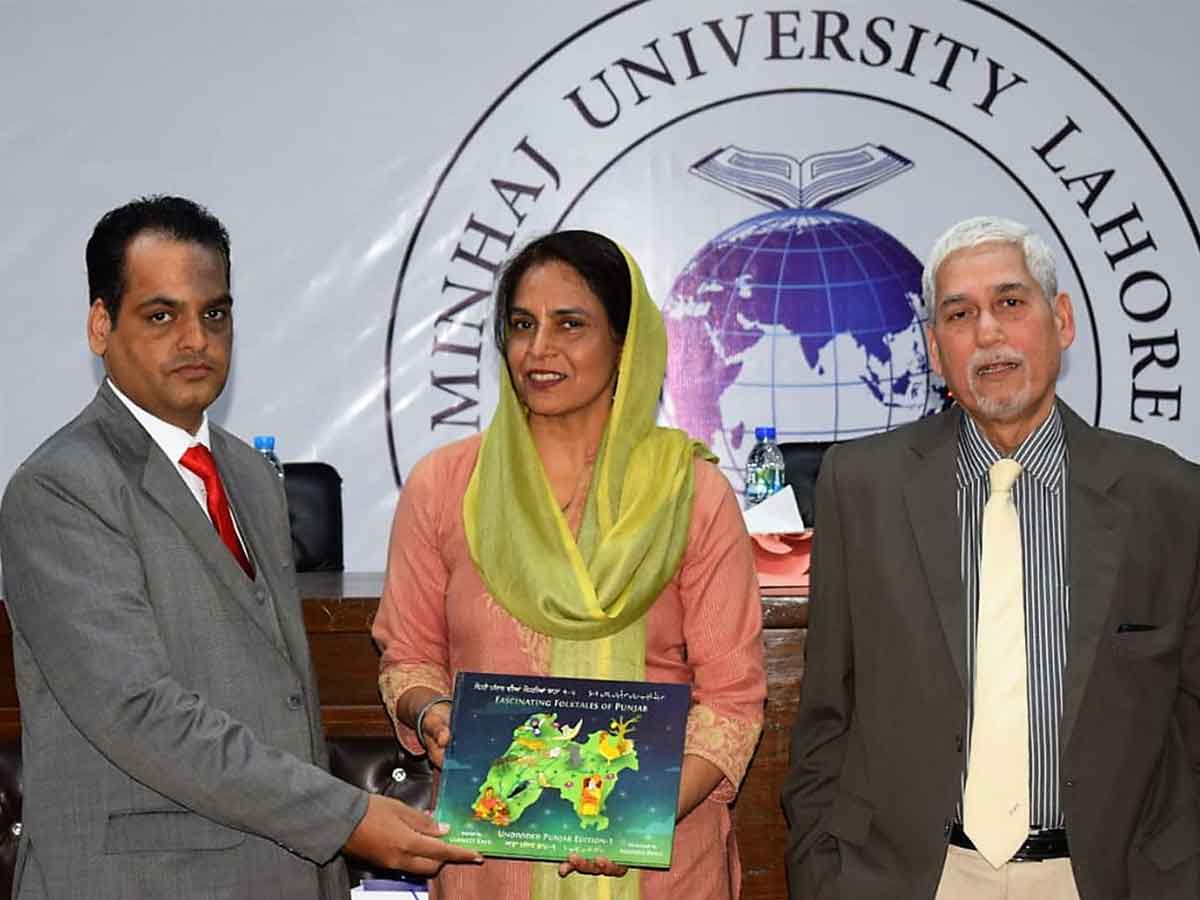 Minhaj University Department of the English Language organized a seminar on November 11th (2019) topic bearing ''Reclaiming Punjabi and Kartarpur of Baba Guru Nanak"
The guest speaker was renowned Ms.Gurmeet Kaur, a Canadian based Author, Storyteller, Punjabi Language & Heritage Activist and a Campaign Organizer for preserving the Heritage of Kartarpur Sahib.
She stated,'' it is a matter of grievous agony that we are forgetting our mother languages and feels proud to learn and speak only English. In the world today anybody who speaks Punjabi, he is considered illiterate. We must not enforce our kids to speak only an alien language; but, we must give him the option to learn both languages and this would stimulate his analytical power to learn."
She added,'' with this motivation I have dedicated myself to the cause of preserving the Punjabi Language for Children. It is erroneous to assume that Punjabi is extinct or obsolete language. It is the 10th widely spoken language in the world. But it is at the threshold of disappearance because lack of Children's literature. My mission and project aims to rejuvenate the thousand year's old, oral traditional stories that are being forgotten .''
She emblazoned her Folk Tales Storybook and told that it is the first book in Punjabi which is bearing Scripts in Gurumukhi and Shahmuki and felt proud that almost her nine bilingual books in Gurumukhi & English and one in Shah Mukhi are bearing circulation of 15000 in the hands of children around the world.
Talking about KartarPur,'' this corridor would lead to the road of the prosperity of the region and bright future for our coming generations. This act of Pakistan has not only being limited to the border opening to our Holy Shrine but has kindered the hearts of Sikhs 'affection of brotherhood for the People of Pakistan,"
She appealed to the Government of Pakistan that since the KartarPur Gurdwara was built to commemorate the site where Guru Nanak stelled down permanently after his missionary work and did farming and ploughed the fields himself. The soil of this Farming Fields is very Holy to Sikhs. These farming fields are the Religious Heritage of Sikhism and must be preserved rather than using it for commercial purposes and paving with roads.
While talking about the Sufi Saint Baba Farid Shakarganji she stated,'' it is believed that during one of the several journeys of Guru Nanak, accompanied by his Muslim friend Bhai Mardana, he met the spiritual descendent of Baba Farid,Sheikh Ibrahim,who introduced him to the work of Baba Farid.So it is through Guru Nanak that the poetry of Baba Farid found its way into Guru Granth Sahib. Today the Sikh Holy Book is the only written source of Baba Farid's poetry.
Mr Shahid Nafees, Director Students Affairs lauded the tireless efforts of Ms. Gurmeet Kaur in giving life to the Punjabi Language by her literary work and quenching her quest for high-quality Punjabi languages Books. He wished her best of luck by quoting that indeed her work on English/Punjabi board books will delight young and old generations closer together to the magical land of Punjab.