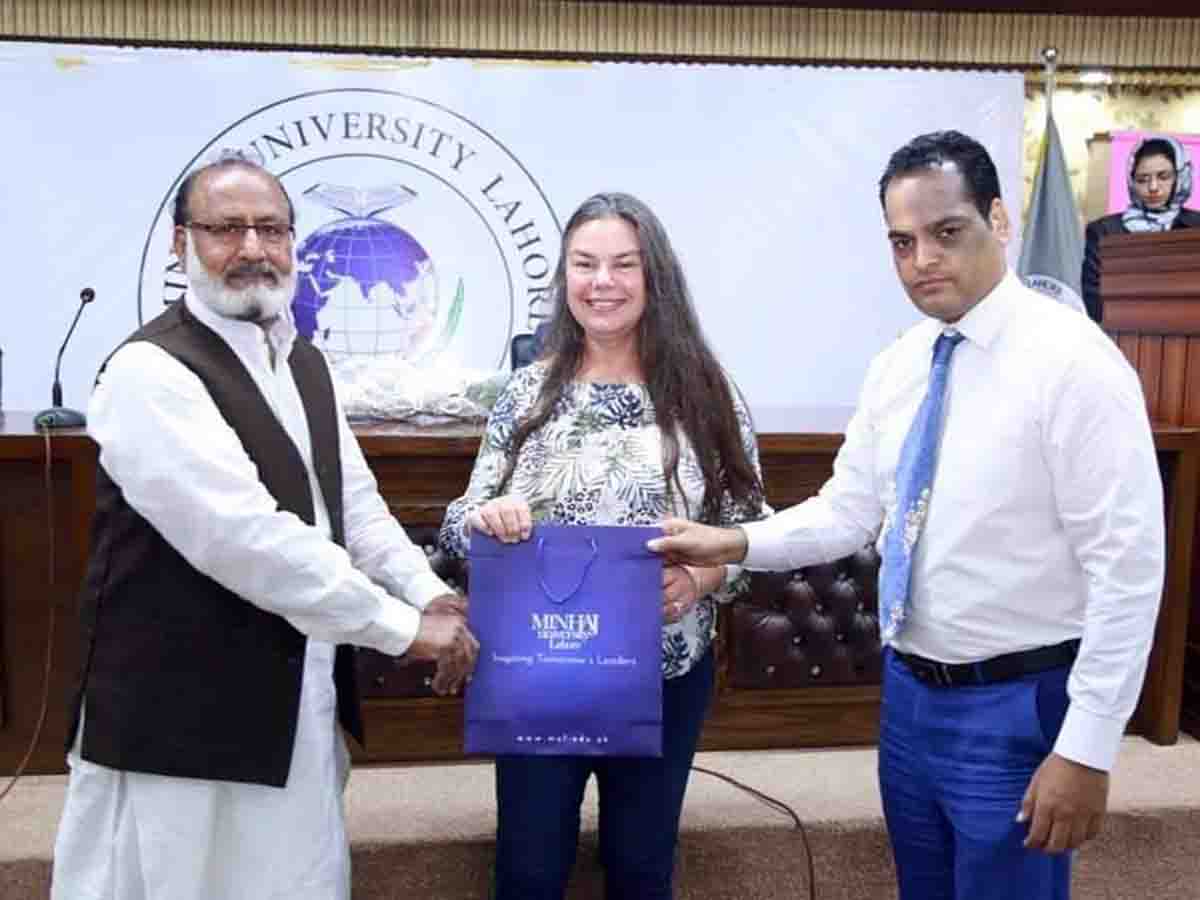 Minhaj University Department of English language organized a visit of Prof.Dr Jakelin Troy, Director of Aboriginal and Torres Strait Islander Research of The University of Sydney, Australia on November 4th with courtesy Mr.Irfan Abbas HOD English Department.
The object of the session was to give awareness to the students of English Department about the careers in Linguistic Research and opportunities for future collaborations between Australia and Pakistan."
The distinguished speaker appreciated the hospitality of the Pakistani people. I feel in Pakistan by being in my own country. Talking about the importance of Languages she said, 'to understand humans and culture of any country, We must learn many languages. She said being humans we all have the same blood and language should not be the criteria to judge people or barrier to communicate.
Stating her own experience in languages she stated,'' I am not racist, but I don't like speaking English, I would rather speak my own Language, Ngarigu, that of the snowy mountains in South Eastern Australia."
Currently, my research work is focused on documenting, describing and reviving indigenous languages. For this, I am in Pakistan to explore Saraiki of the Punjab and Torwali of swat.
She added,'' it is not that I particularly dislike English as Language. I started learning English at my adolescent age. As English is International Medium to speak so it is indispensable. But, I feel authentic to say in my own language," Ngaya Ngyamitimitung" than to say in English, "I am Aboriginal in English. Truly speaking, Aboriginal sounds like a label, that someone else has given to me."
On the other hand, it may seem ridiculous that in Australia very few people speak Australian Languages. There are more than 407 aboriginal languages in Australia and 13 are very strong. Whereas in Pakistan there are 72 languages and Urdu is the strongest. It is a matter of irony, that most Australians would not know Australian English name in the earliest colonial period came from the language of the Gadigal clan
While talking about the indigenous philosophies, she said, 'all elements of the natural world are animated. Every rock, mountain, river, plant and animals all are sentient having individual personalities and life force. Same is philosophies of indigenous language.to explore the indigenous languages sometimes you have to work with endangered people who live in dangerous circumstances. We may say Indigenous people and danger are synonyms.in fact, we live in danger vilified as destabilizing forces in our own country"
Prof.Dr Mukhtar Ahmad Azmi, Deans, Faculty of Languages and Mr.Irfan Abbas HOD English Language thanked the honourable guest for her auspicious visit and expressed for long term relations with The University of Sydney.Prof.Jakelin Troy welcomed this gesture and said that she would be looking forward on the behalf of her university to sign an MOU for students exchange programs with Minhaj University Lahore.
Later on the prestigious guest was served with Hi-Tea where she relished the cookies and shared informal discussion with senior staff of English Department.
Responding to the question of IELTS (English Language Testing System) that is an hurdle for students to seek admission in foreign universities.She said I will talk to this issue in my University at some forum.
She encouraged one student to be what you are and learn English just as a language not to Impress but to Express and be proud of your vernacular language.