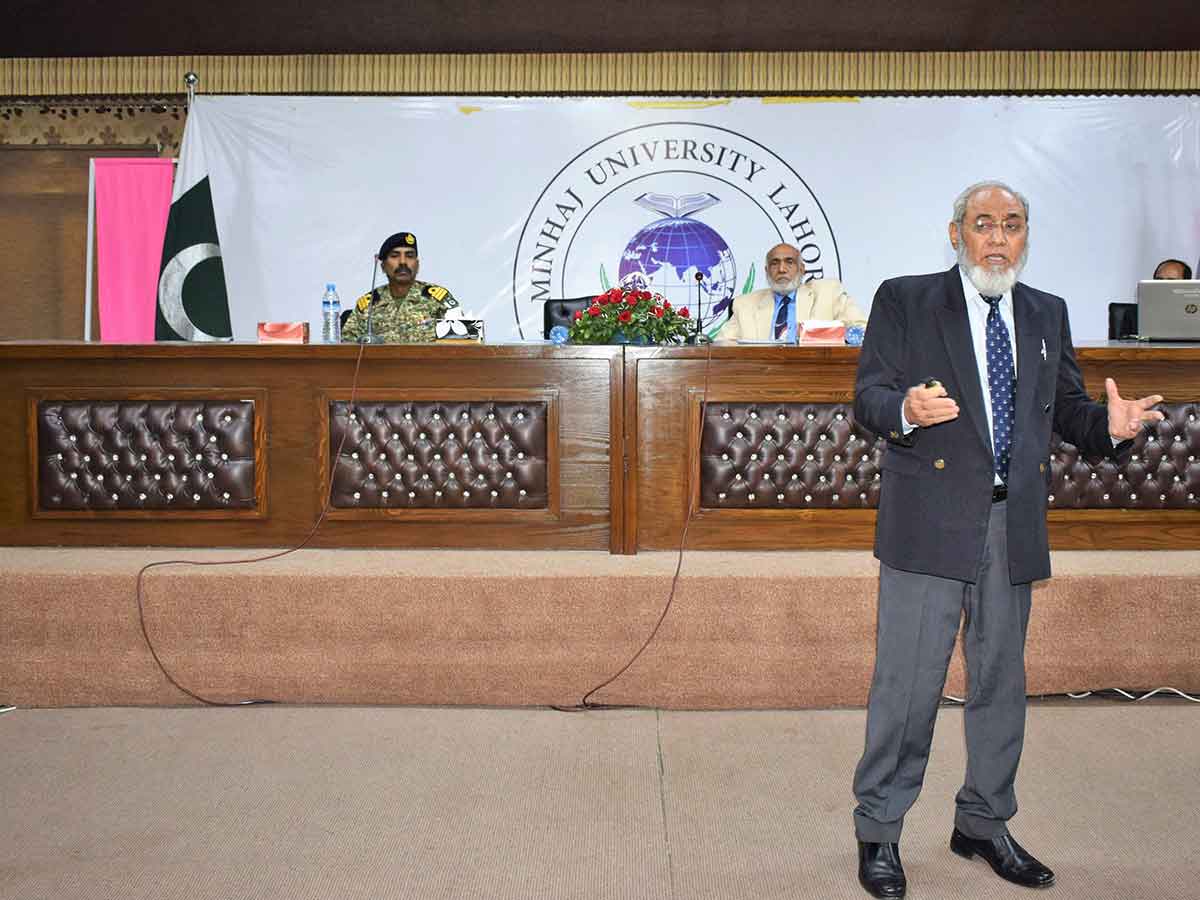 PAKISTAN IS A LAND OF OPPORTUNITY

Minhaj University, The School of Political Science, Headed by Prof.Dr.Naudir Bakht, Chairman School of Political Science organized an informative session for the M.Phil. students of Political Science on CPEC & Maritime Security. The distinguished guest invited for the session were Commodore Naveed Ahmad SI(M) and Commodore Shoab from the Naval War College Lahore.
Commodore Naveed Ahmad to start with said,'' Pakistan is a land of opportunity and blessed with countless bounties of Almighty. We as a nation by eliminating our internal differences must unite together to make Pakistan stronger and stronger and must realize what a great country we are in all aspects."
While talking about the Martine Security with reference to CPEC he stated, 'Due to Pakistan's geography and geo-political location in the region, Pakistan is depending heavily on the sea for its existence. Therefore, a strong navy equipped with modern technology is required to sustain the flow of trading activities in peace and war times. Through CPEC Pakistan will transform into a social hub which would definitely evoke sentiments in our enemies particularly India to halt this historical project.
To meet these Martine Challenges, Pakistan requires a multifaceted approach to meet all security challenges by beefing up the security of Grader Port by security guards, coastal exercises and increasing Martine Domain Awareness by engaging law enforcing agencies.
He added,'' CPEC is flagship project between China and Pakistan. China at no cost can put this project in jeopardy.CPEC is being developed in a way that it cannot just be a stimulus to our economic growth but also provides Pakistan basis for regional integration, socioeconomics developments, interoperability, harmonized developments and effective management of resources. The implementation of this project would prove to be transformative for contiguous regions of East Asia, Central Asia, South Asia, West Asia the Gulf and Africa."
He concluded,'' that the development of Gwader Port will greatly benefit the region of Pakistan and China. Indeed, CPEC is the gateway to prosperity and door with many windows.''
Dr. Naudir Bakht, Chairman School of Political Science and Assistant Professor, Bashier Ahmad and Ms Sajida Begum, Assistant Professor of Political Science extended special thanks to the honourable guests for sparing their time for visiting Minhaj University and delivering such an informative briefing on an important economic issue of Pakistan.