PhD Management Science
PhD Management Science
PhD Management Science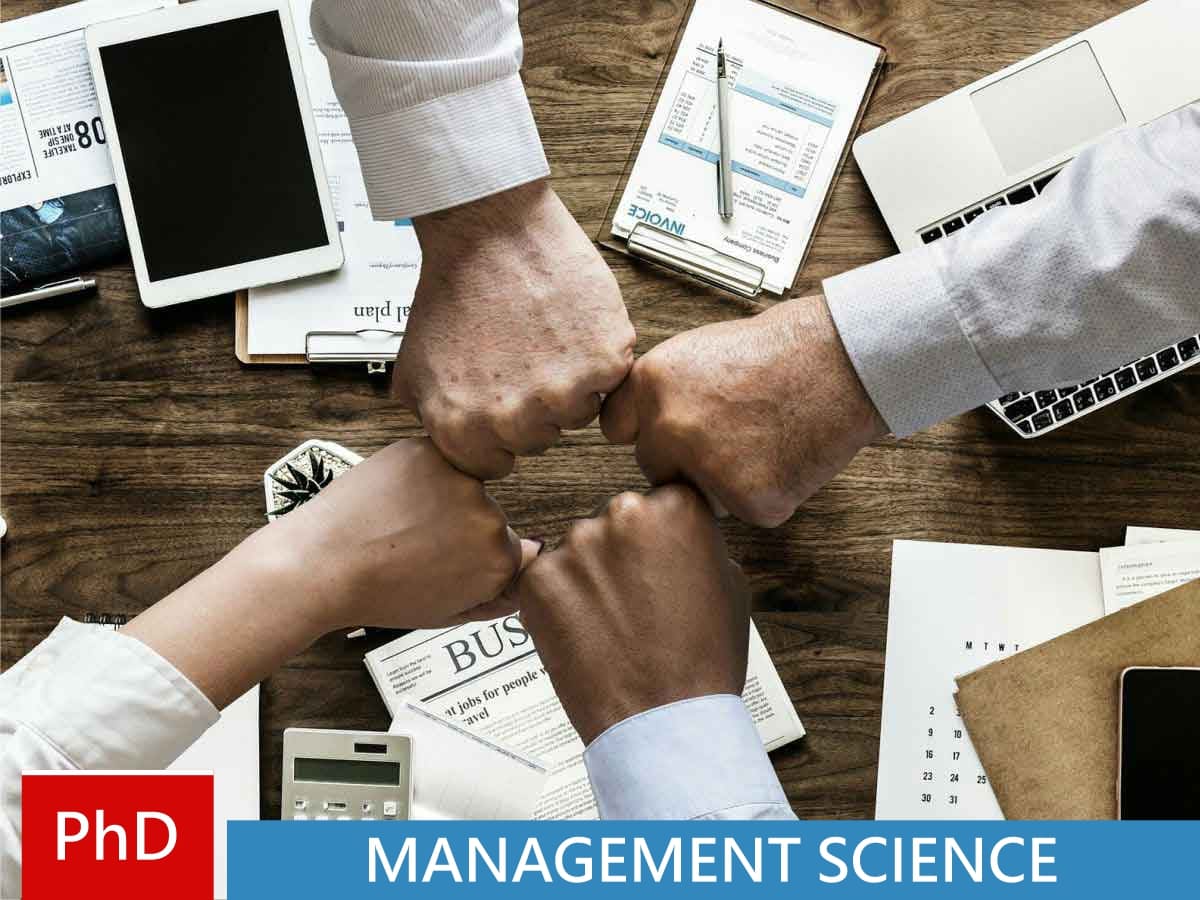 The Doctor of Philosophy (PhD) in Management Sciences is an internationally recognized research qualification which allows professionals, managers and academicians to apply advanced research skills and techniques to describe, explain and improve existing management practices in a scientific manner. The philosophy of the program is to inculcate research capabilities, advance contemporary knowledge, and streamline potentials to bring innovative and advance techniques in the existing management functions. The PhD program provides training and education with the objective of producing graduates who have the capacity to conduct research independently at high level of originality and quality. The goal of PhD research is to contribute to existing body of knowledge by filling gaps in the current literature. This aim can be achieved when a PhD candidate uncovers new knowledge either by discovery of new facts, formulation of new concepts and theories or the innovative reinterpretation of established ideas.
PhD programme of Minhaj University Lahore aims to produce graduates who can initiate genuine and indigenous ideas to not only enrich the field of research but to address current governance and management challenges of Pakistan. This program is exclusively designed for graduates seeking to extend and deepen their knowledge by undertaking an appropriate research investigation under the supervision of School of Business and Management Sciences (SBM) faculty.
Eligibility Criteria:
Eighteen (18 years qualification) in (Banking & Finance, Business Administration, Commerce, Accounting & Finance, Management Sciences, Project Management) relevant field or equivalent with a minimum of 3.00 out of 4.0 CGPA and 24 Cr. hrs. + 6 Cr. hrs. thesis in M.Phil. semester system is required. Entry Test + Interview and minimum 60% marks in GAT Subject or 70% marks in MAT Subject. 
Semester No 1
Sr #
Course Code
Course Name
Credit Hours
1
PGRM701
ADVANCE RESEARCH METHODOLOGY
3
2
MNGT702
Contemporary Issues in Data Analysis
3
3
MNGT703
Management Thought and Philosophy
3
Total Credit Hours
9
Semester No 2
Sr #
Course Code
Course Name
Credit Hours
1
MNGT704
Environmental Marketing
3
2
MNGT705
Seminars in Leadership and Change Management
3
3
MNGT707
Financial Theory and Corporate Policy
3
Total Credit Hours
9
Semester No 3
Sr #
Course Code
Course Name
Credit Hours
1
FYPJ699
Research Thesis
3
Total Credit Hours
3
Semester No 4
Sr #
Course Code
Course Name
Credit Hours
1
FYPJ699
Research Thesis
3
Total Credit Hours
3
Semester No 5
Sr #
Course Code
Course Name
Credit Hours
1
FYPJ699
Research Thesis
3
Total Credit Hours
3
Semester No 6
Sr #
Course Code
Course Name
Credit Hours
1
MNGT650
Research Thesis
6
Total Credit Hours
6
| PhD Management Science | |
| --- | --- |
| Duration | 3 Years Years |
| Total Semester | 6 |
| Total Package | 639,700 |
| At Admission Time | 28,500 |
| Additional Charges at the time of Admission | 2,700 * |
| Examination Fee | 3,500 |
| Total Amount (At Admission) | 31,200 |
| Installment | 49250 * 12 |
| * Additional Charges at the time of Admission | |
| --- | --- |
| Library Security Fee (Refundable) | 2,000 |
| Student Card | 200 |
| Library & Magazine Fund | 500 |
| Total Additional Charges | 2,700 |